InStockTrades will be moving across the street to a new warehouse location starting Thursday, June 1st. We will be processing orders up until Wednesday, May 31st at 12pm EST. After that point, our staff will be focusing on packing up our warehouse and transitioning to our new location. We hope to be back processing orders by Monday, June 5th. With this move we will be getting a larger warehouse which will allow us to better house our products and your orders!
We do ask for your patience during this time and ask that you please limit any order inquiries to our customer service team.
Trey Walker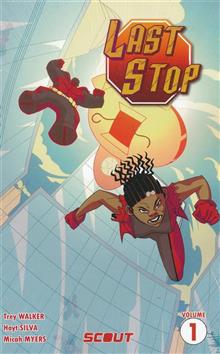 (W) Trey Walker (A) Hoyt Silva Special NONSTOP! Imprint trade paperback where Scout releases a World Premiere issue followed by the entire story in a collected volume at a special reduced price! Seven issues worth of art and story for the price of five! Time is ticking for the World's last superhero. Disillusioned, Lincoln Adams (a.k.a. Unstoppable) must make peace with the changing world around him-can there truly be a place for him in a world without Supers? After learning of his terminal disease, Lincoln sees an easy way out; however, the re-emergence of an old Arch-Nemesis, and a new shadowy masked figure, turn Lincoln's plans of an easy passing on their head. Can Lincoln stop this new threat before the disease stops him?
Results 1 - 1 of 1