InStockTrades will be moving across the street to a new warehouse location starting Thursday, June 1st. We will be processing orders up until Wednesday, May 31st at 12pm EST. After that point, our staff will be focusing on packing up our warehouse and transitioning to our new location. We hope to be back processing orders by Monday, June 5th. With this move we will be getting a larger warehouse which will allow us to better house our products and your orders!
We do ask for your patience during this time and ask that you please limit any order inquiries to our customer service team.
Martin Cendreda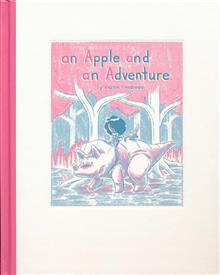 (W/A/CA) Martin Cendreda Archaia adds a new children's book to its library with Martin Cendreda's An Apple and An Adventure, which uses rhyme and the ABCs to create an engaging world of wonder that's both educational and fun. A young cave girl and her triceratops set out on an adventure from A to Z and make new friends along the way-galloping goliaths, nine newts, petite plesiosaurs, and more greet them on their journey through the alphabet!
(W/A) Martin Cendreda Martin Cendreda is a gifted comics storyteller who spends most of his days working as an animator (Bojack Horseman, South Park) and therefore hasn't had a collection of his work... unitil now! Printed in red, white, and black, The Hand of Black and Other Stories collects seven mostly-silent, short stories (most of which have never been published) that are each a chiseled, mini-masterpiece of dark humor and horror, and will resonate with fans of the Twilight Zone or the works of Daniel Clowes.
Results 1 - 2 of 2