InStockTrades will be moving across the street to a new warehouse location starting Thursday, June 1st. We will be processing orders up until Wednesday, May 31st at 12pm EST. After that point, our staff will be focusing on packing up our warehouse and transitioning to our new location. We hope to be back processing orders by Monday, June 5th. With this move we will be getting a larger warehouse which will allow us to better house our products and your orders!
We do ask for your patience during this time and ask that you please limit any order inquiries to our customer service team.
Lars Martinson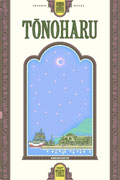 (W/A/CA) Lars Martinson The long awaited final volume of the critically acclaimed Tonoharu series rejoins Dan Wells several months into his tenure as an English teacher in the Japanese village of Tonoharu. As personal stresses push Dan to the breaking point, he decides to take an extended cross-country vacation to let off steam. His time away grants him a fresh perspective on his troubles, but upon his return to Tonoharu, Dan discovers that dramatic change has occurred in his absence. Will this upheaval render his new found epiphany moot? With hundreds of beautiful, detailed illustrations that evoke 19th century line engravings, Tonoharu provides a nuanced portrayal of the joys and frustrations of living abroad.
Results 1 - 1 of 1