InStockTrades will be moving across the street to a new warehouse location starting Thursday, June 1st. We will be processing orders up until Wednesday, May 31st at 12pm EST. After that point, our staff will be focusing on packing up our warehouse and transitioning to our new location. We hope to be back processing orders by Monday, June 5th. With this move we will be getting a larger warehouse which will allow us to better house our products and your orders!
We do ask for your patience during this time and ask that you please limit any order inquiries to our customer service team.
Ron Robbins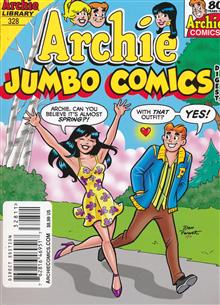 (W) Ron Robbins, David Gallaher (A) Bill Golliher, VARIOUS (CA) Bill Golliher, Dan Parent TWO BRAND NEW STORIES! First, in 'History Repeating,' it's time for the annual Riverdale Spring Dance and everyone's getting into the spirit of the season-aka stressing out big time for the retro-themed dance! Can Archie swoop in to save the day? Then, we have a brand new Steel Sterling story that sees the hero taking on one of the most difficult tasks he's had to yet-mentoring a new, young hero. Can Pureheart prove to Sterling that he's more than just sidekick material, and has what it takes to be a full-fledged superhero all his own?
Results 1 - 1 of 1