InStockTrades will be moving across the street to a new warehouse location starting Thursday, June 1st. We will be processing orders up until Wednesday, May 31st at 12pm EST. After that point, our staff will be focusing on packing up our warehouse and transitioning to our new location. We hope to be back processing orders by Monday, June 5th. With this move we will be getting a larger warehouse which will allow us to better house our products and your orders!
We do ask for your patience during this time and ask that you please limit any order inquiries to our customer service team.
Darin Strauss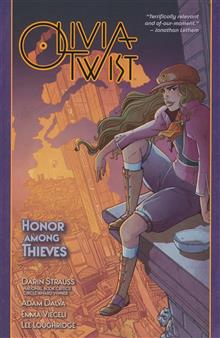 (W) Darin Strauss, Adam Dalva (A/CA) Emma Vieceli To save a boy she barely knows, teenage orphan Olivia Twist joins THE ESTHERS, a rag-tag girl gang of thieves running free in a dangerous future. Olivia's life in this imminent London of internment camps and strange technology gets even more complicated when she discovers that she has more power and wealth than she's ever dreamed of. But it comes with a great cost. This volume collects issues #1-#4 of Darin Strauss, Adam Dalva, and Emma Vieceli's Olivia.
Results 1 - 1 of 1