InStockTrades will be moving across the street to a new warehouse location starting Thursday, June 1st. We will be processing orders up until Wednesday, May 31st at 12pm EST. After that point, our staff will be focusing on packing up our warehouse and transitioning to our new location. We hope to be back processing orders by Monday, June 5th. With this move we will be getting a larger warehouse which will allow us to better house our products and your orders!
We do ask for your patience during this time and ask that you please limit any order inquiries to our customer service team.
Gao Yuzuki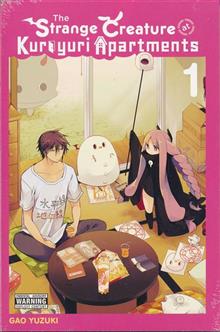 (W/A/CA) Gao Yuzuki Meet Meme, the good-for-nothing daughter of the Demon World's mighty summoner clan. Her dad's kicked her out into the human world to learn some responsibility, and she needs to find a home! Enter Sentarou Narigane, wealthy landlord of Kuroyuri Apartments. Suffering from the worst case of malaise, Sentarou offers Meme a free apartment on one condition: she needs to make him have fun!
Results 1 - 1 of 1