InStockTrades will be moving across the street to a new warehouse location starting Thursday, June 1st. We will be processing orders up until Wednesday, May 31st at 12pm EST. After that point, our staff will be focusing on packing up our warehouse and transitioning to our new location. We hope to be back processing orders by Monday, June 5th. With this move we will be getting a larger warehouse which will allow us to better house our products and your orders!
We do ask for your patience during this time and ask that you please limit any order inquiries to our customer service team.
Edgar Allan Poe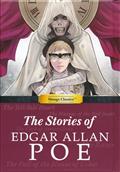 (W) Edgar Allan Poe (A) Various (CA) Virginia Nitohei The Stories of Edgar Allan Poe is a brilliant collection of some of his best-known stories: The Tell Tale Heart (a murder's haunting guilt), The Cask of Amontillado (a story of brilliant revenge), and The Fall of the House of Usher (an ancient house full of very dark secretes). Also included in this collection are The Mask of the Red Death (horrors of 'the Plague'), and the most famous of all his poems: The Raven (a lover's decline into madness). Best read in a dimly-lit room with the curtains drawn, Poe's brilliant works come to life in darkly thrilling ways in this Manga Classic adaptation.
Results 1 - 1 of 1