InStockTrades will be moving across the street to a new warehouse location starting Thursday, June 1st. We will be processing orders up until Wednesday, May 31st at 12pm EST. After that point, our staff will be focusing on packing up our warehouse and transitioning to our new location. We hope to be back processing orders by Monday, June 5th. With this move we will be getting a larger warehouse which will allow us to better house our products and your orders!
We do ask for your patience during this time and ask that you please limit any order inquiries to our customer service team.
Jonathan David Goff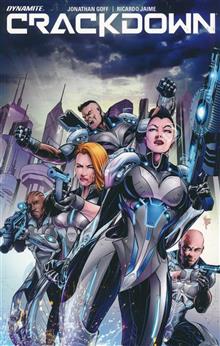 (W) Jonathan David Goff (A/CA) Ricardo Jaime The hyper-powered world of Crackdown (Xbox) has made its way to the comic page! In the not-so-distant future, civilized society is more plugged-in and interconnected than ever - but criminal organizations are growing more connected as well, forming unholy alliances, and plotting for an unprecedented campaign against the world. When a series of devastating blackout attacks plunge major metropolitan areas into darkness and chaos, the global population is terrified, traditional law enforcement is overwhelmed - and it's up to The Agency, an elite international crime-fighting task force, to restore peace and deliver justice, by any means necessary.
Results 1 - 1 of 1