InStockTrades will be moving across the street to a new warehouse location starting Thursday, June 1st. We will be processing orders up until Wednesday, May 31st at 12pm EST. After that point, our staff will be focusing on packing up our warehouse and transitioning to our new location. We hope to be back processing orders by Monday, June 5th. With this move we will be getting a larger warehouse which will allow us to better house our products and your orders!
We do ask for your patience during this time and ask that you please limit any order inquiries to our customer service team.
Max Marks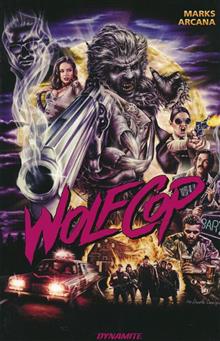 (W) Max Marks (A/CA) Arcana Studios Ever since hard-drinking, local Woodhaven police officer Lou Garou had a late-night bender and stumbled onto dark magic, his life has been turned upside-down. Now he moonlights as WolfCop, a rage-fueled, bourbon-swilling, magnum-toting, rabid warrior for justice! Everyone's favorite lycanthropic lawman tears out of the big screen and into this comic to fight bigger, badder and meaner monsters! WolfCop gets caught up in a bit of small-town hospitality when a bordello with dark secrets traps him with his two favorite vices - women and booze. Then when black magic leaves him alone and wolfed-out full time, WolfCop must return home, only for unfamiliar faces to have a surprise party planned for him. Not the fun kind either!
Results 1 - 1 of 1