InStockTrades will be moving across the street to a new warehouse location starting Thursday, June 1st. We will be processing orders up until Wednesday, May 31st at 12pm EST. After that point, our staff will be focusing on packing up our warehouse and transitioning to our new location. We hope to be back processing orders by Monday, June 5th. With this move we will be getting a larger warehouse which will allow us to better house our products and your orders!
We do ask for your patience during this time and ask that you please limit any order inquiries to our customer service team.
Madleine Flores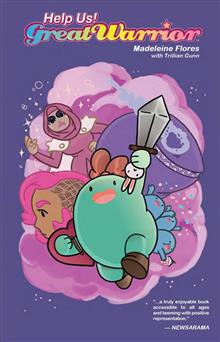 (W/A) Mad?leine Flores (CA) Nick Sumida What's to Love: Madeleine Flores' tale of a smart, hilarious, and intensely capable little warrior enchanted us immediately with its unique sense of humor and manga-influenced look and feel. If you love the brand of kick-butt girl power that the Lumberjanes bring to the page each month, then this sword-wielding girl and her hilarious adventures will be exactly what you need. Also, there are witches who turn everyone to hunks. What's not to love? What It Is: Based on Madeleine Flores' popular webcomic, Help Us! Great Warrior is about a very powerful Great Warrior (natch) who protects her village from evildoers and looks great in her armor while doing it. Possessing great strength and even greater self-confidence, she's ready to kick some butts and save everyone, especially hunky guys. Collects the complete six-issue mini-series.
Results 1 - 1 of 1