InStockTrades will be moving across the street to a new warehouse location starting Thursday, June 1st. We will be processing orders up until Wednesday, May 31st at 12pm EST. After that point, our staff will be focusing on packing up our warehouse and transitioning to our new location. We hope to be back processing orders by Monday, June 5th. With this move we will be getting a larger warehouse which will allow us to better house our products and your orders!
We do ask for your patience during this time and ask that you please limit any order inquiries to our customer service team.
Mark Evanier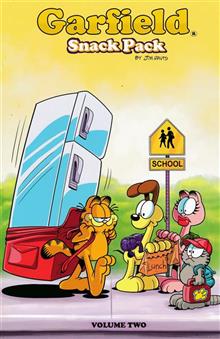 (W) Mark Evanier, Scott Nickel (A) Antonio Alfaro (CA) Andy Hirsch The Fat Cat returns for fun (and food) for all seasons, in this collection of sensational seasonal stories. As the gang heads to the beach to soak up some rays, Jon and Liz hit bumpy waters, navigating a breakup just as a giant shark approaches. After the waters have calmed, Garfield and Odie audition for a reality show, and Garfield encounters nemeses old and new: a spooky ghoul who reaches out from the TV, and the fan-favorite Lasagna Monster. Writers Mark Evanier (Garfield and Friends) and Scott Nickel team up with artists Antonio Alfaro, David DeGrand (Spongebob Comics), and more for loads of comedy and carbs. Collects Garfield 2018 Vacation Time Blues #1 and Garfield 2018 TV Or Not TV? #1.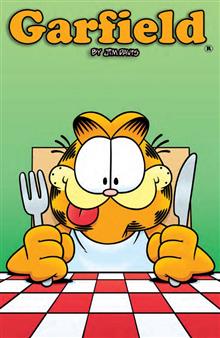 (W) Mark Evanier, Scott Nickel (A) Andy Hirsch, Various (CA) Andy Hirsch Writers: Mark Evanier, Scott Nickel Artists: Andy Hirsch, Various Cover Artist: Andy Hirsch Synopsis: The Fat Cat just keeps on delivering the laughs! In this latest collection of Garfield's comic book adventures, Garfield and Odie go on strange trips with a mailman and a genie, while also finding a magic wand. Also, Pooky is abducted by aliens, Nermal makes new friends in the forest, and a Garfield cosplayer solves a mystery at a comic convention. Collects issues #29-32.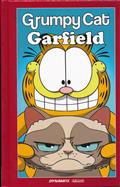 (W) Mark Evanier (A/CA) Steve Uy It's the inevitable meeting of the sourpusses! Garfield, the reigning cynical cat of newspapers and television crosses paths with Grumpy Cat, the internet sensation whose scowl endeared herself to the world. Who's the most sarcastic? Well, he likes lasagna and not much else... and she doesn't even like lasagna. Can these two inhabit the same comic book mini-series, let alone the same planet? We'd say it's the cat's meow, but neither of these cats meows.
Results 1 - 3 of 3