InStockTrades will be moving across the street to a new warehouse location starting Thursday, June 1st. We will be processing orders up until Wednesday, May 31st at 12pm EST. After that point, our staff will be focusing on packing up our warehouse and transitioning to our new location. We hope to be back processing orders by Monday, June 5th. With this move we will be getting a larger warehouse which will allow us to better house our products and your orders!
We do ask for your patience during this time and ask that you please limit any order inquiries to our customer service team.
Owen D. Pomery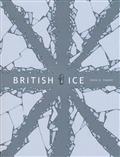 Working for the British High Commission, Harrison Fleet is posted to a remote arctic island which is still, inexplicably, under British rule. As he struggles to understand why, and what interests he is protecting, Harrison learns just how much of the land and its community lies in the shadow cast by the outpost's founder. Caught between hostile locals, the British Government, and an unforgiving physical environment, he begins dragging dark secrets into the light, unaware of the tragic repercussions they will cause. And help is very, very far away. Part noir, part historical mystery, British Ice explores the consequences of colonialism and the legacy of empire.
Results 1 - 1 of 1