InStockTrades will be moving across the street to a new warehouse location starting Thursday, June 1st. We will be processing orders up until Wednesday, May 31st at 12pm EST. After that point, our staff will be focusing on packing up our warehouse and transitioning to our new location. We hope to be back processing orders by Monday, June 5th. With this move we will be getting a larger warehouse which will allow us to better house our products and your orders!
We do ask for your patience during this time and ask that you please limit any order inquiries to our customer service team.
A.C. Esguerra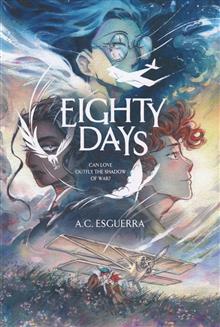 (W/A/CA) A.C. Esguerra CAN LOVE OUTFLY THE SHADOW OF WAR? Jay wants nothing more than to fly the skies in perfect solitude and with perfect freedom. Or so he thinks, until he crosses paths with a mysterious thief named Fix whose tricks and charms draw him into the struggle against the looming aviation guild to which Jay owes his very being. As Jay becomes further entangled in the turbulence of Fix's cause, each man must learn to navigate shifting allegiances, the fight for freedom, and the greatest adventure of all - love. Award-winning cartoonist A.C. Esguerra presents an unforgettable debut graphic novel for fans of The Prince and The Dressmaker and The Sacrifice of Darkness, about finding the courage to fight for what you believe in.
Results 1 - 1 of 1