InStockTrades will be moving across the street to a new warehouse location starting Thursday, June 1st. We will be processing orders up until Wednesday, May 31st at 12pm EST. After that point, our staff will be focusing on packing up our warehouse and transitioning to our new location. We hope to be back processing orders by Monday, June 5th. With this move we will be getting a larger warehouse which will allow us to better house our products and your orders!
We do ask for your patience during this time and ask that you please limit any order inquiries to our customer service team.
Sashko Danylenko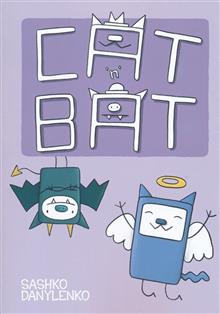 (W/A/CA) Sashko Danylenko Cat and Bat are best friends. Every day, they watch awful television, get awful ideas, and get into an awful lot of trouble. In the grand tradition of silent comedy, award-winning Ukrainian animator and artist Sashko Danylenko presents an addictive collection of strips that reveal painfully funny truths about human nature. A delightfully creative short story collection-in the vein of Beavis and Butt-Head, Ren & Stimpy, and Mad Magazine!
Results 1 - 1 of 1