InStockTrades will be moving across the street to a new warehouse location starting Thursday, June 1st. We will be processing orders up until Wednesday, May 31st at 12pm EST. After that point, our staff will be focusing on packing up our warehouse and transitioning to our new location. We hope to be back processing orders by Monday, June 5th. With this move we will be getting a larger warehouse which will allow us to better house our products and your orders!
We do ask for your patience during this time and ask that you please limit any order inquiries to our customer service team.
Campbell Whyte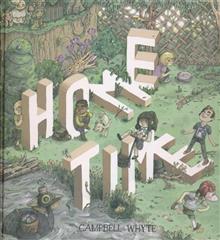 (W/A/CA) Campbell Whyte The last school bell has rung and it's finally HOME TIME! Even though they're twins, Lilly and David don't agree on much? except that the last summer before high school is the perfect time for relaxing with friends. But their plans for sleepovers, fantasy games, and romance are thrown out the window when the whole gang falls into a river and wakes up in a village of fantastic creatures. Hailed as magical spirits and attacked by lizards, these kids must find their way home - if they don't throttle each other first. Australian cartoonist Campbell Whyte combines the rich imagination of Dungeons & Dragons with puckishly charming characters and a touch of video-game geometry in his spectacular first graphic novel.

(W/A/CA) Campbell Whyte Home Time: Under the River ended with a disastrous tea ceremony which left six kids lost, scared, confused, and even burnt. Now, the second half of the Home Time saga picks up from that nerve-wracking cliffhanger, as the children leave the relative safety of Peach Village in search of medicine, answers, and, hopefully, a way home. Equipped with a living map, a flask of hallucinogenic tea, and a plan so stupid it just might work, Lily, Amanda, Ben, and Nathan will have to pull together at the very time they've drifted the furthest apart. Award-winning graphic novelist Campbell Whyte is back, with his signature kaleidoscope of art styles, to cast a new spell wrapping up the most whimsically fantastical journey in ages.
Results 1 - 2 of 2