InStockTrades will be moving across the street to a new warehouse location starting Thursday, June 1st. We will be processing orders up until Wednesday, May 31st at 12pm EST. After that point, our staff will be focusing on packing up our warehouse and transitioning to our new location. We hope to be back processing orders by Monday, June 5th. With this move we will be getting a larger warehouse which will allow us to better house our products and your orders!
We do ask for your patience during this time and ask that you please limit any order inquiries to our customer service team.
Cassie Anderson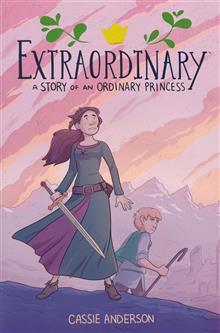 (W/A/CA) Cassie Anderson While her sisters were blessed at birth with exceptional skills, Princess Basil's 'gift' is to be ordinary. After escaping an unconventional kidnapping, Princess Basil finds herself far from her castle and must take fate into her own hands. She tracks down the fairy godmother who 'blessed' her, and finds the solution to her ordinariness might be as simple as finding a magic ring. With an unlikely ally in tow, she takes on gnomes, a badger, and a couple of snarky foxes in her quest for a less ordinary life. o All-ages reading fun. o From the co-creator of Lifeformed: Cleo Makes Contact.
Results 1 - 1 of 1