InStockTrades will be moving across the street to a new warehouse location starting Thursday, June 1st. We will be processing orders up until Wednesday, May 31st at 12pm EST. After that point, our staff will be focusing on packing up our warehouse and transitioning to our new location. We hope to be back processing orders by Monday, June 5th. With this move we will be getting a larger warehouse which will allow us to better house our products and your orders!
We do ask for your patience during this time and ask that you please limit any order inquiries to our customer service team.
Nankidai
(W) Nankidai (A) Tatsuya Ikegami The appearance of the mysterious Hoemi and the sudden death of Mishima have thrown Sara and the other people trapped with her into despair. They all continue to search for some way to escape, but paranoia is beginning to take hold of each of them...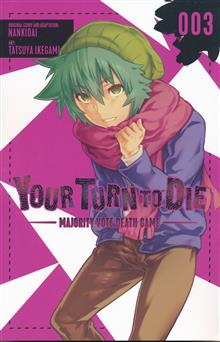 (W) Nankidai (A) Tatsuya Ikegami The brutal and sadistic 'main game' has finally begun. The unwilling players have no choice but to vote for who will die by majority rule?but there's a twist. Each player holds a card with a unique, secret role modifying the rules of the game, and Sara's is 'The Key'-if she's the one voted out, all of them will die!
Results 1 - 2 of 2