InStockTrades will be moving across the street to a new warehouse location starting Thursday, June 1st. We will be processing orders up until Wednesday, May 31st at 12pm EST. After that point, our staff will be focusing on packing up our warehouse and transitioning to our new location. We hope to be back processing orders by Monday, June 5th. With this move we will be getting a larger warehouse which will allow us to better house our products and your orders!
We do ask for your patience during this time and ask that you please limit any order inquiries to our customer service team.
Ian Boothby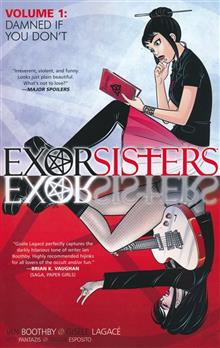 (W) Ian Boothby (A/CA) Gisele Lagace, Pete Pantazis Included in Book Riot's Best Comics of 2018 Did you sign a deal with the devil? Has a loved one been dragged to Hell? Then Kate and Cate Harrow should be the first ones you call for timely soul removal at a reasonable rate. This collection is perfect for fans of case-solving procedurals like Veronica Mars, Netflix's Jessica Jones, and the CW's Supernatural, and introduces readers to the Harrows, who have to deal with the end of the world, fallen angels, demon worshipping ex-boyfriends, and their Mother. Collects EXORSISTERS #1-5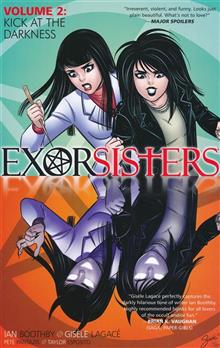 (W) Ian Boothby (A/CA) Gisele Lagace, Pete Pantazis When The Creator said, 'Let there be light,' The First Shadow fell across creation. Now it's up to Cate and Kate Harrow to stop the world from being swallowed by its infinite darkness. But to do it, they need to get the help of Heaven, Hell, and their deadbeat dad. Collects EXORSISTERS #6-10.
Results 1 - 2 of 2