InStockTrades will be moving across the street to a new warehouse location starting Thursday, June 1st. We will be processing orders up until Wednesday, May 31st at 12pm EST. After that point, our staff will be focusing on packing up our warehouse and transitioning to our new location. We hope to be back processing orders by Monday, June 5th. With this move we will be getting a larger warehouse which will allow us to better house our products and your orders!
We do ask for your patience during this time and ask that you please limit any order inquiries to our customer service team.
Mike Avila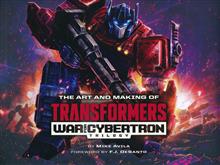 (W) Mike Avila The fate of Cybertron lies in the hands of the Autobots in this gripping new animated series. The Art and Making of Transformers: War For Cybertron Trilogy provides an incredible behind-the-scenes look at the conception of this exhilarating new story and gives readers insight into the exacting character design that brought the Autobots, Decepticons, Maximals, and Predacons to life. Featuring hundreds of pieces of gorgeous concept art, this deluxe hardcover shows the painstaking detail that went into the creation of the technological world of Cybertron, the vastness of space, and the wilderness of prehistoric Earth. With stunning imagery and exclusive interviews with the show's creators, producers, artists, voice actors, and more, this book will provide the ultimate look into the crafting of the action-packed series.
Results 1 - 1 of 1