InStockTrades will be moving across the street to a new warehouse location starting Thursday, June 1st. We will be processing orders up until Wednesday, May 31st at 12pm EST. After that point, our staff will be focusing on packing up our warehouse and transitioning to our new location. We hope to be back processing orders by Monday, June 5th. With this move we will be getting a larger warehouse which will allow us to better house our products and your orders!
We do ask for your patience during this time and ask that you please limit any order inquiries to our customer service team.
Carmine Di Giandomenico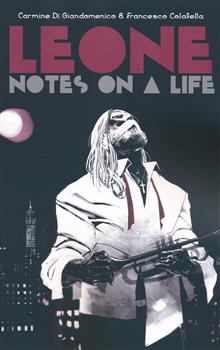 (W/A/CA) Carmine Di Giandomenico, Francesco Colafella Acclaimed creator CARMINE DI GIANDOMENICO (The Flash, Daredevil: Battlin' Jack Murdock) and rising star FRANCESCO COLAFELA present the true story of LEONE, an Italian man who immigrated to the U.S. to find fortune, freedom, and jazz and left it again to save lives. From the stage of his last concert in New York City, through the sound of his trumpet, Leone recounts his past and his future in an emotional, nonlinear memoir made of music and memories. Step into the shoes of an American immigrant in this timely tale about spreading love and strength wherever you go and never forgetting where you came from. REGISTER PITCH: A true story-in the tradition of such American immigrant narratives as American Born Chinese and The Best We Could Do-that's infused with jazz music culture.
Results 1 - 1 of 1