InStockTrades will be moving across the street to a new warehouse location starting Thursday, June 1st. We will be processing orders up until Wednesday, May 31st at 12pm EST. After that point, our staff will be focusing on packing up our warehouse and transitioning to our new location. We hope to be back processing orders by Monday, June 5th. With this move we will be getting a larger warehouse which will allow us to better house our products and your orders!
We do ask for your patience during this time and ask that you please limit any order inquiries to our customer service team.
Satoru Matsuba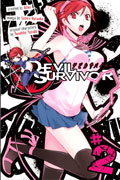 (W/A/CA) Satoru Matsuba The manga version of the successful Nintendo 3DS game, part of the Shin Megami Tensei franchise that also includes the hit Persona games. After demons break through into the human world, Tokyo must be quarantined. Without power and stuck in a supernatural warzone, 17-year-old Kazuya has only one hope: He must use the COMP, a device created by his cousin Naoya capable of summoning and subduing demons, to defeat the invaders and take back the city.
Results 1 - 1 of 1