InStockTrades will be moving across the street to a new warehouse location starting Thursday, June 1st. We will be processing orders up until Wednesday, May 31st at 12pm EST. After that point, our staff will be focusing on packing up our warehouse and transitioning to our new location. We hope to be back processing orders by Monday, June 5th. With this move we will be getting a larger warehouse which will allow us to better house our products and your orders!
We do ask for your patience during this time and ask that you please limit any order inquiries to our customer service team.
Gen Urobuchi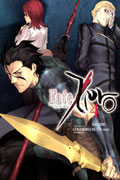 (W) Gen Urobuchi, Type Moon (A/CA) Shinjiro With the Fourth Holy Grail War underway, seven magi and their summoned heroes from history battle to the death to claim the Grail and have their wishes granted. Kiritsugu brings down a skyscraper to eliminate Kayneth and Lancer, but it does not go as planned . . . and Caster makes his move against Saber! o The manga adaptation of Type-Moon's hit anime and novel series!
Results 1 - 1 of 1