InStockTrades will be moving across the street to a new warehouse location starting Thursday, June 1st. We will be processing orders up until Wednesday, May 31st at 12pm EST. After that point, our staff will be focusing on packing up our warehouse and transitioning to our new location. We hope to be back processing orders by Monday, June 5th. With this move we will be getting a larger warehouse which will allow us to better house our products and your orders!
We do ask for your patience during this time and ask that you please limit any order inquiries to our customer service team.
Spain Rodriguez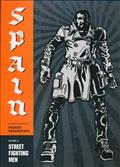 (W/A/CA) Spain Rodriguez Street Fighting Men is the first volume in another landmark series from Fantagraphics. The 170 pages of Trashman stories form the backbone of this volume, along with his first-hand accounts of riding with the Road Vultures Motorcycle Club and his 1969 series about cop corruption, Manning. This first volume is rounded with an informative inside account of Spain's life and loves in the emerging counterculture of New York's Lower East Side.
Results 1 - 1 of 1