InStockTrades will be moving across the street to a new warehouse location starting Thursday, June 1st. We will be processing orders up until Wednesday, May 31st at 12pm EST. After that point, our staff will be focusing on packing up our warehouse and transitioning to our new location. We hope to be back processing orders by Monday, June 5th. With this move we will be getting a larger warehouse which will allow us to better house our products and your orders!
We do ask for your patience during this time and ask that you please limit any order inquiries to our customer service team.
John Rogers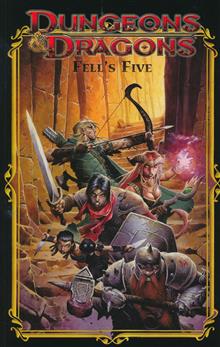 (W) John Rogers (A) Andrea Di Vito & Various (CA) Andrea Di Vito Expand on your gaming experience with this graphic novel that includes three Game Adventures featuring the characters of Fell's Five! Join Adric Fell, the halfling Bree Three-Hands, the dwarf Khal Khalundurrin, the tiefling Tisha Swornheart, and the elf Varis in a tale of high adventure and deep secrets. Adric Fell leads a band of wayward heroes in a world where civilization has been reduced to a few scattered points of light amid a rising tide of shadows. Plus, play as the heroes of the book in three Game Adventures created for this series, replicating pivotal scenes in the story as roleplaying game encounters. You can use these as the foundation for a longer adventure of your own creation, or you can simply play them as a short excursion!
Results 1 - 1 of 1