InStockTrades will be moving across the street to a new warehouse location starting Thursday, June 1st. We will be processing orders up until Wednesday, May 31st at 12pm EST. After that point, our staff will be focusing on packing up our warehouse and transitioning to our new location. We hope to be back processing orders by Monday, June 5th. With this move we will be getting a larger warehouse which will allow us to better house our products and your orders!
We do ask for your patience during this time and ask that you please limit any order inquiries to our customer service team.
Tom Spurgeon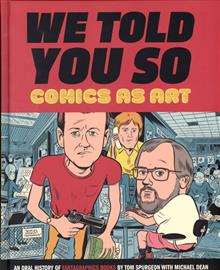 (W/A/CA) Tom Spurgeon, Mike Dean We Told You So: Comics As Art tells of Fantagraphics Books' key role in helping build an art movement in the 1970s around a discredited, ignored and fading art form: comics. Assembling an all-star cast including Chris Ware, Art Spiegelman, Harlan Ellison, Jim Shooter, Stan Lee, Daniel Clowes, Frank Miller, Peter Bagge, Jaime Hernandez, Gilbert Hernandez, Dave Sim, Steve Geppi, Todd McFarlane and every other major figure in modern comics, Comics As Art... makes the warts and all case for Fantagraphics Books' position near the heart of the modern reclamation of the comics art form.
Results 1 - 1 of 1