InStockTrades will be moving across the street to a new warehouse location starting Thursday, June 1st. We will be processing orders up until Wednesday, May 31st at 12pm EST. After that point, our staff will be focusing on packing up our warehouse and transitioning to our new location. We hope to be back processing orders by Monday, June 5th. With this move we will be getting a larger warehouse which will allow us to better house our products and your orders!
We do ask for your patience during this time and ask that you please limit any order inquiries to our customer service team.
STEVE GERBER and MARY SKRENES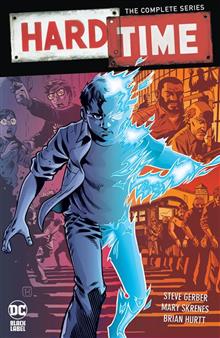 (W) STEVE GERBER and MARY SKRENES (A) BRIAN HURTT and STEVE BIRD (CA) TOMER HANUKA From Steve Gerber, the late creator of subversive classics like Howard the Duck, Hard Time is one of his most unique creations! What was supposed to be a stupid prank ends up costing four students their lives?and 15-year-old Ethan Harrow his future. But something powerful has been growing within Ethan, and now it?s escaped. When Ethan and Brandon agreed to prank the jocks at school, Ethan thought they would get a laugh. When Brandon goes over the edge...Ethan manifests some metaphysical force that kills his friend. The results of the trial are swift and severe, and the judge sentences Ethan to 50 years in prison. Will this powerful force living inside Ethan end up being a source of power, a chance at redemption, or the cruelest of curses? And is there anyone who can help him control it? Collects Hard Time #1-12 and Hard Time: Season Two #1-7.
Results 1 - 1 of 1