InStockTrades will be moving across the street to a new warehouse location starting Thursday, June 1st. We will be processing orders up until Wednesday, May 31st at 12pm EST. After that point, our staff will be focusing on packing up our warehouse and transitioning to our new location. We hope to be back processing orders by Monday, June 5th. With this move we will be getting a larger warehouse which will allow us to better house our products and your orders!
We do ask for your patience during this time and ask that you please limit any order inquiries to our customer service team.
Thierry Cailleteau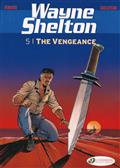 (W) Thierry Cailleteau (A/CA) Christian Denayer Thirty years after Hooker's betrayal and the massacre at Cao-Dinh, Shelton discovered he had the next best thing to a son - and lost him immediately. Filled with hatred and rage, the adventurer methodically tracks down Mrs Yoon, Hooker's right arm and murderer of Tran. It's a long and obstacle-strewn quest, but Wayne is a professional. Which does leave the hardest question of all: what will he do once he's found his old nemesis?
Results 1 - 1 of 1