InStockTrades will be moving across the street to a new warehouse location starting Thursday, June 1st. We will be processing orders up until Wednesday, May 31st at 12pm EST. After that point, our staff will be focusing on packing up our warehouse and transitioning to our new location. We hope to be back processing orders by Monday, June 5th. With this move we will be getting a larger warehouse which will allow us to better house our products and your orders!
We do ask for your patience during this time and ask that you please limit any order inquiries to our customer service team.
George Evans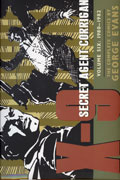 (W/A/CA) George Evans The best-selling series continues! Famed EC artist George Evans had periodically ghosted for Al Williamson on Secret Agent Corrigan and in 1980 Williamson and writer Archie Goodwin passed the strip to Evans permanently. Evans wrote and drew the strip for sixteen years until he and Phil Corrigan retired together in 1996. Evans had a long and illustrious career, from Fiction House and Fawcett to EC, where he worked along his friends Frank Frazetta and Al Williamson. This volume reprints the first Secret Agent Corrigan strips by Evans - more than 750 rarely-seen dailies from February 1980 to August 1982! It's a must-have for all fans of adventure strips!
Results 1 - 1 of 1