InStockTrades will be moving across the street to a new warehouse location starting Thursday, June 1st. We will be processing orders up until Wednesday, May 31st at 12pm EST. After that point, our staff will be focusing on packing up our warehouse and transitioning to our new location. We hope to be back processing orders by Monday, June 5th. With this move we will be getting a larger warehouse which will allow us to better house our products and your orders!
We do ask for your patience during this time and ask that you please limit any order inquiries to our customer service team.
Jehanzeb Hasan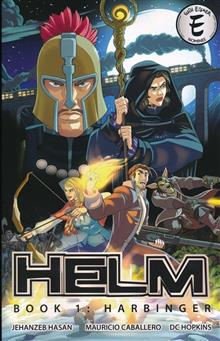 (W) Jehanzeb Hasan (A) Mauricio Caballero, Miguel Angel Reyes (CA) Mauricio Caballero It is an age of steamworks and sorcery, magick and machinery, rancor and revolution. Helm is an Eisner-nominated comic series set in an ancient fantasy world that has undergone an industrial revolution in the past 300 years. Racism and riots run rampant, 'magick-makers' are mercilessly hunted, the elves have all but been eradicated, and rumors of rebellion stir amongst the half-breeds and downtrodden peoples of the Commonwealth. Pursued by the merciless Legion, the mysterious witch Luna Lumere seeks out Eldrick Spellsong, Jr., a college dropout who unknowingly holds the key to unlocking an age-old secret. Together, along with a sundry gang of adventurers, villains, and scoundrels, they will traverse the dark and dangerous world of Helm, in search of the legendary Bastard King, and rouse him from his slumber.
Results 1 - 1 of 1