InStockTrades will be moving across the street to a new warehouse location starting Thursday, June 1st. We will be processing orders up until Wednesday, May 31st at 12pm EST. After that point, our staff will be focusing on packing up our warehouse and transitioning to our new location. We hope to be back processing orders by Monday, June 5th. With this move we will be getting a larger warehouse which will allow us to better house our products and your orders!
We do ask for your patience during this time and ask that you please limit any order inquiries to our customer service team.
Glenn Herdling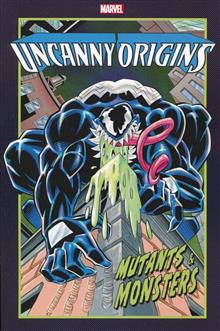 (W) Glenn Herdling & Various (A) Dave Hoover, Pablo Raimondi (CA) Dave Hoover Explore the origins of Marvel's most incredible characters, retold in action-packed animated style! Cyclops, Beast and the Angel are three of the founding members of the X-Men - but before they ever met Professor X, how did they deal with the frightening first manifestations of their mutant powers? Learn how Quicksilver and Scarlet Witch went from frightened orphans to sworn enemies of the X-Men and finally to heroic Avengers! Feel the fury of Firelord, once and future herald of the world-eating Galactus! Discover true rage, courtesy of the Incredible Hulk - for the madder he gets, the stronger he gets! And witness how Eddie Brock met his symbiotic alien 'other' - and became the vicious Venom! Thrill to the events that shaped Marvel's most iconic heroes and villains as you've never seen them before! Collecting UNCANNY ORIGINS #1-7.
Results 1 - 1 of 1