InStockTrades will be moving across the street to a new warehouse location starting Thursday, June 1st. We will be processing orders up until Wednesday, May 31st at 12pm EST. After that point, our staff will be focusing on packing up our warehouse and transitioning to our new location. We hope to be back processing orders by Monday, June 5th. With this move we will be getting a larger warehouse which will allow us to better house our products and your orders!
We do ask for your patience during this time and ask that you please limit any order inquiries to our customer service team.
David Baron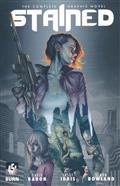 (W) David Baron (A) Yusuf Idris (CA) Steve Morris Meet Emma London: recovery artist and bounty hunter for hire. She is strong, possibly indomitable, and did we mention...part machine. Emma is the type that dives head first into things that most wouldn't and shouldn't. Those dark places that no one else will go to track down the subhuman criminals lurking in the underbelly of society and bring them to justice. Emma tries to take down a pair of international diamond smugglers, but her story explodes forward when initially what was thought to be a hunt for a priceless painting with a record high bounty leads her to something darker and more monstrous than she could have ever imagined. Collects issues #1-5.
Results 1 - 1 of 1