InStockTrades will be moving across the street to a new warehouse location starting Thursday, June 1st. We will be processing orders up until Wednesday, May 31st at 12pm EST. After that point, our staff will be focusing on packing up our warehouse and transitioning to our new location. We hope to be back processing orders by Monday, June 5th. With this move we will be getting a larger warehouse which will allow us to better house our products and your orders!
We do ask for your patience during this time and ask that you please limit any order inquiries to our customer service team.
Carin Davis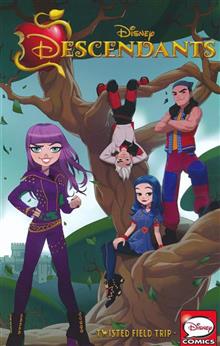 (W) Carin Davis, Delilah Dawson (A) Anna Cattish, Egle Bartolini (CA) Anna Cattish Advance solicited for May release! After their second film, the children of classic Disney characters like Maleficent, Belle and The Beast, and the Evil Queen take on an all-new adventure from Auradon! Evie, Mal, Ben and friends begin taking classes in Sherwood Forest with other Auradon Prep students. In the forest, they discover that some of the skills they learned on the Isle of the Lost will come in handy, but the other students have talents of their own to match. And when they're split into pairs, they'll be reminded that teamwork is the key to success… AND survival! Descendants and Descendants 2 are two of the most watched Disney Channel original movies of all time!
Results 1 - 1 of 1