InStockTrades will be moving across the street to a new warehouse location starting Thursday, June 1st. We will be processing orders up until Wednesday, May 31st at 12pm EST. After that point, our staff will be focusing on packing up our warehouse and transitioning to our new location. We hope to be back processing orders by Monday, June 5th. With this move we will be getting a larger warehouse which will allow us to better house our products and your orders!
We do ask for your patience during this time and ask that you please limit any order inquiries to our customer service team.
Andy Gavin Jason Rubin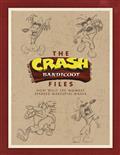 Take a rare glimpse into the making of a videogame icon, and gain a first-hand taste of the creativity that brought Crash Bandicoot to millions of screens around the world! This deluxe hardcover reproduction of Naughty Dog's original Crash Bandicoot developer's bible is sure to please all who possess a curiosity surrounding the creation of games! A fantastic companion to the recently remastered Crash Bandicoot: N. Sane Trilogy! Rarely seen assets from early in the iconic game's development!
Results 1 - 1 of 1