InStockTrades will be moving across the street to a new warehouse location starting Thursday, June 1st. We will be processing orders up until Wednesday, May 31st at 12pm EST. After that point, our staff will be focusing on packing up our warehouse and transitioning to our new location. We hope to be back processing orders by Monday, June 5th. With this move we will be getting a larger warehouse which will allow us to better house our products and your orders!
We do ask for your patience during this time and ask that you please limit any order inquiries to our customer service team.
Adrewsteven Damsits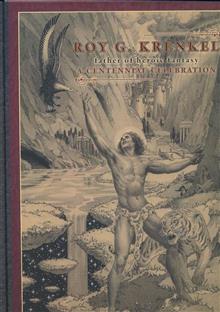 Roy G. Krenkel illustrated numerous works by Edgar Rice Burroughs, Robert E. Howard, Lin Carter, and more. But many of Krenkles works-what he calls his 'Doodles,' in a characteristically self-effacing manner-were rarely seen by even his biggest fans. And while many of Roy's doodles were simple drawings, many were finished illustrations done for the pure pleasure of creating art. Most of the images in this book are published here for the very first time (courtesy of and with the full cooperation of the Krenkel Estate), and nearly all have been painstakingly scanned from the original art (in a manner akin to IDW's Eisner Award-winning Artist's Edition series) with the goal being to showcase Krenkel's gorgeous original art in a way it has never been seen before. While the realms of science fiction, heroic fantasy, paleontology, and historical reconstruction were particular specialties of Roy's, his pen, brush, and palette knew no boundaries.
Results 1 - 1 of 1