InStockTrades will be moving across the street to a new warehouse location starting Thursday, June 1st. We will be processing orders up until Wednesday, May 31st at 12pm EST. After that point, our staff will be focusing on packing up our warehouse and transitioning to our new location. We hope to be back processing orders by Monday, June 5th. With this move we will be getting a larger warehouse which will allow us to better house our products and your orders!
We do ask for your patience during this time and ask that you please limit any order inquiries to our customer service team.
Bernard Seret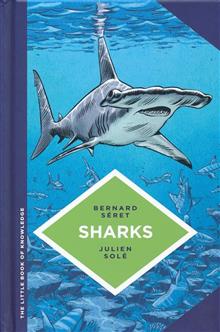 (W) Bernard Seret (A/CA) Julien Sole Since the turn of the century, scientists have been going shark crazy! Now, dive into a world beneath the waves and learn all about one of nature's most mysterious creatures. They've fascinated mankind forever, but we still have a lot to learn, and 16% of shark species have been discovered in the last 15 years! Written by experts in the field and drawn by fans that know the material, each Little Book is perfect for the established enthusiast and burgeoning amateur alike.
Results 1 - 1 of 1