InStockTrades will be moving across the street to a new warehouse location starting Thursday, June 1st. We will be processing orders up until Wednesday, May 31st at 12pm EST. After that point, our staff will be focusing on packing up our warehouse and transitioning to our new location. We hope to be back processing orders by Monday, June 5th. With this move we will be getting a larger warehouse which will allow us to better house our products and your orders!
We do ask for your patience during this time and ask that you please limit any order inquiries to our customer service team.
Whitney Ellsworth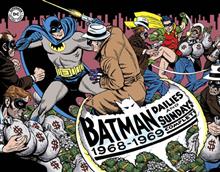 (W) Whitney Ellsworth (A) Joe Giella, Al Plastino (CA) Peter Poplaski In this second volume, produced in partnership with DC Entertainment, Batman's rare 1960s newspaper adventures continue. Will Batman and Robin survive the double-dealings of Madame Zodiac, not to mention the redoubtable Blue Max? If so, can the Caped Crusader then survive being trapped on an island with an atomic time bomb beneath him? Can his friend Superman save him when the Man of Steel might not be able to save himself? Can Aquaman come to rescue them both? The answers to these questions-and many more-are in this breathtaking Bat-Volume.
Results 1 - 1 of 1