InStockTrades will be moving across the street to a new warehouse location starting Thursday, June 1st. We will be processing orders up until Wednesday, May 31st at 12pm EST. After that point, our staff will be focusing on packing up our warehouse and transitioning to our new location. We hope to be back processing orders by Monday, June 5th. With this move we will be getting a larger warehouse which will allow us to better house our products and your orders!
We do ask for your patience during this time and ask that you please limit any order inquiries to our customer service team.
Susan Beneville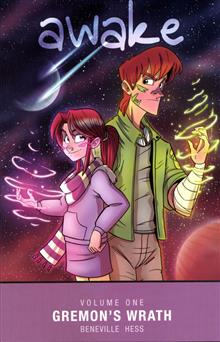 (W) Susan Beneville (A/CA) Brian Hess Young Regn travels the universe to wake and heal planets. On her first mission, she lands on the planet Gremon where she discovers an angry world tearing itself apart, an irresponsible big brother, and a greedy baron who stokes the chaos for his own benefit. Regn's photonic powers won't be enough when she comes face-to-face with the planet's consciousness. To win over Gremon, she'll need something more - courage, compassion, and a little bit of help from the last person she should trust. Collects Regn's first time planet-side in AWAKE #1-4.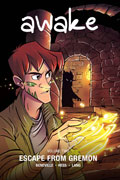 (W) Susan Beneville (A/CA) Brian Hess Having successfully completed her first mission to wake up and heal the planet Gremon, Chkarta Dola Regn should be celebrating, instead she is fleeing from the brutal and greedy Baron Korup. Meanwhile, her brother Picar and her mentor Operi attempt to rescue their friend Chay from the clutches of the duplicitous Gen and the conniving Gurk. This all-ages trade paperback collects Regn and Picar's further adventures on Gremon in AWAKE #5-8.
Results 1 - 2 of 2