InStockTrades will be moving across the street to a new warehouse location starting Thursday, June 1st. We will be processing orders up until Wednesday, May 31st at 12pm EST. After that point, our staff will be focusing on packing up our warehouse and transitioning to our new location. We hope to be back processing orders by Monday, June 5th. With this move we will be getting a larger warehouse which will allow us to better house our products and your orders!
We do ask for your patience during this time and ask that you please limit any order inquiries to our customer service team.
Palle Schmidt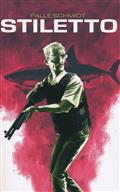 (W/A/CA) Palle Schmidt Detective Maynard is trying to find some illumination in his grey, gritty world. As much as he dreams of a happy, 'normal' life, it seems to be just outside his reach. When the brutal slaying of two police officers guarding a material witness interrupts the department, Maynard and his partner Alphonse find themselves chasing down a mysterious adversary-an unidentified leak inside the police department know only as 'Stiletto.' Discovering Stiletto's identity will prove dangerous and deadly, as the quest pulls them both down a whirlpool of corruption as maze-like as Hell itself.
Results 1 - 1 of 1