InStockTrades will be moving across the street to a new warehouse location starting Thursday, June 1st. We will be processing orders up until Wednesday, May 31st at 12pm EST. After that point, our staff will be focusing on packing up our warehouse and transitioning to our new location. We hope to be back processing orders by Monday, June 5th. With this move we will be getting a larger warehouse which will allow us to better house our products and your orders!
We do ask for your patience during this time and ask that you please limit any order inquiries to our customer service team.
Julie Benson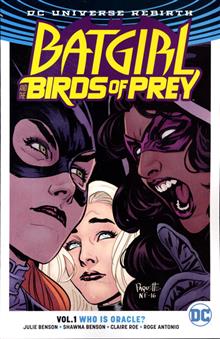 (W) Julie Benson, Shawna Benson (A) Claire Roe, Roge Antonia (CA) Yanick Paquette In these tales from BATGIRL AND THE BIRDS OF PREY #1-6 and REBIRTH #1, a mysterious new criminal operative called Oracle has declared war on Gotham City! Barbara Gordon, a.k.a. Batgirl-and a.k.a. super-cyber hero Oracle-in a previous guise, takes exception to someone smearing her legacy. Can she count on Black Canary and the volatile Huntress to help her get to the bottom of this mystery?
Results 1 - 1 of 1