InStockTrades will be moving across the street to a new warehouse location starting Thursday, June 1st. We will be processing orders up until Wednesday, May 31st at 12pm EST. After that point, our staff will be focusing on packing up our warehouse and transitioning to our new location. We hope to be back processing orders by Monday, June 5th. With this move we will be getting a larger warehouse which will allow us to better house our products and your orders!
We do ask for your patience during this time and ask that you please limit any order inquiries to our customer service team.
Brandon Barrows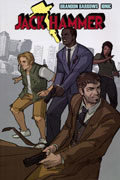 (W) Brandon Barrows (A/CA) Ionic In Boston, powers are real, heroes are rare and Jack McGriskin is a private detective with a strong right arm and a nose for trouble. When a missing person he's been hired to find turns up dead, he stumbles into a network of corruption stretching from the streets of Boston to the halls of Congress and the clues lead him back to a world he'd left behind. And just as things are starting to get back to normal, a new shadow falls across his path in the form of the mysterious Usurper. Collects Jack Hammer #1-4 and Jack Hammer: Usurper #1-2.
Results 1 - 1 of 1