InStockTrades will be moving across the street to a new warehouse location starting Thursday, June 1st. We will be processing orders up until Wednesday, May 31st at 12pm EST. After that point, our staff will be focusing on packing up our warehouse and transitioning to our new location. We hope to be back processing orders by Monday, June 5th. With this move we will be getting a larger warehouse which will allow us to better house our products and your orders!
We do ask for your patience during this time and ask that you please limit any order inquiries to our customer service team.
Ann M. Martin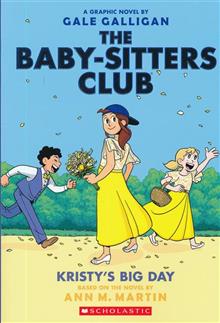 (W) Ann M. Martin, Gale Galligan (A/CA) Gale Galligan A brand-new full-color graphic novel adapted by USA Today-bestselling author Gale Galligan! Kristy's mom is getting married, and Kristy is going to be a bridesmaid! The only trouble is, fourteen kids are coming in town for the wedding. Kristy, Claudia, Mary Anne, Stacey, Dawn, and Mallory think they can handle it, but that's before they spend a week changing diapers, stopping arguments, solving mix-ups, and planning activities. It's the biggest job the BSC has ever had, but they'll work together to make sure Kristy's big day is a success! Available in softcover and hardcover editions.
Results 1 - 1 of 1