InStockTrades will be moving across the street to a new warehouse location starting Thursday, June 1st. We will be processing orders up until Wednesday, May 31st at 12pm EST. After that point, our staff will be focusing on packing up our warehouse and transitioning to our new location. We hope to be back processing orders by Monday, June 5th. With this move we will be getting a larger warehouse which will allow us to better house our products and your orders!
We do ask for your patience during this time and ask that you please limit any order inquiries to our customer service team.
Eric Zawadzki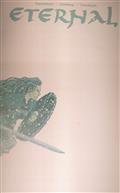 (W) Eric Zawadzki, Ryan Lindsay (A) Eric Zawadzki A group of isolated shieldmaidens protect their village against a tide of men who think they can take their land land from them. Vif takes her band of women off viking to quell the advances of a loitering mystical scumbag, Bjarte. But some battles rage on inside us long after the field is empty, and some opponents won't ever stay down. Eternal is a haunting story of how vulnerable you make yourself when trying to protect everything around you. This oversized bande dessinee graphic novella is a love letter to brutal violence and eternal emotions. With hyperdetailed art and gorgeous fluid motion from artist Eric Zawadzki [hot off THE DREGS], this story will be one of the most beautiful and heartbreaking things you will read this year. Written by Ryan K Lindsay, known for marrying emotion to genre in BEAUTIFUL CANVAS and the award winning NEGATIVE SPACE, this self-contained story is aimed to be a boutique item for your shelves, and a gateway gift to others you know and love.
Results 1 - 1 of 1