InStockTrades will be moving across the street to a new warehouse location starting Thursday, June 1st. We will be processing orders up until Wednesday, May 31st at 12pm EST. After that point, our staff will be focusing on packing up our warehouse and transitioning to our new location. We hope to be back processing orders by Monday, June 5th. With this move we will be getting a larger warehouse which will allow us to better house our products and your orders!
We do ask for your patience during this time and ask that you please limit any order inquiries to our customer service team.
Shaky Kane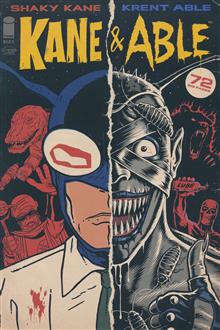 (W/A/CA) Shaky Kane, Krent Able Comic book wise guys, KANE and ABLE, serve up a summer dump cake of genre-busting mischief and masked mayhem in this oversized anthology of never-before-published strips. Slip in and out of subconsciousness with the Astonishing Shield Bug! Surf the Fleshwave with Black Fur in 'Who Fears The Deathroach?'! Journey into the sub-basement in the gasoline-tinged 'Dustmites'! Ride into the Creepzone with Nightmare and Sleepy in the aptly named 'Creepzone'!
Results 1 - 1 of 1