InStockTrades will be moving across the street to a new warehouse location starting Thursday, June 1st. We will be processing orders up until Wednesday, May 31st at 12pm EST. After that point, our staff will be focusing on packing up our warehouse and transitioning to our new location. We hope to be back processing orders by Monday, June 5th. With this move we will be getting a larger warehouse which will allow us to better house our products and your orders!
We do ask for your patience during this time and ask that you please limit any order inquiries to our customer service team.
Howard Porter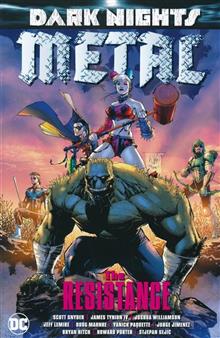 (W) Scott Snyder & Various (A) Howard Porter & Various (CA) Whilce Portacio In this DARK NIGHTS: METAL tie-in, the Justice League has scattered around the world to find artifacts that can stand against the invasion of the Dark Multiverse. Plus, an S.O.S. from Dick Grayson sends Robin back to Gotham City to find Batgirl, Harley Quinn, Killer Croc, Black Canary and Green Arrow trapped in a labyrinth of madness and death! Collects TEEN TITANS #12, NIGHTWING #29, SUICIDE SQUAD #26, GREEN ARROW #32, BATMAN: LOST #1, THE FLASH #33, HAL JORDAN AND THE GREEN LANTERN CORPS #32, JUSTICE LEAGUE #32-33 and HAWKMAN: FOUND #1.
Results 1 - 1 of 1