InStockTrades will be moving across the street to a new warehouse location starting Thursday, June 1st. We will be processing orders up until Wednesday, May 31st at 12pm EST. After that point, our staff will be focusing on packing up our warehouse and transitioning to our new location. We hope to be back processing orders by Monday, June 5th. With this move we will be getting a larger warehouse which will allow us to better house our products and your orders!
We do ask for your patience during this time and ask that you please limit any order inquiries to our customer service team.
Emil Ferris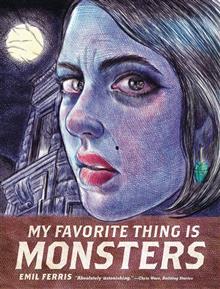 (W/A/CA) Emil Ferris My Favorite Thing Is Monsters is a murder mystery, a family drama, a sweeping historical epic, and a psychological thriller about monsters, real and imagined. Set against the political backdrop of late '60s Chicago, Karen Reyes tries to solve the murder of her enigmatic upstairs neighbor. Rendered in a kaleidoscopically visual style, Emil Ferris' draftsmanship echoes the drawing of Otto Dix, George Grosz, and Robert Crumb. This is a revelatory work of striking originality and will undoubtedly be greeted as the debut graphic novel of the year.
Results 1 - 1 of 1